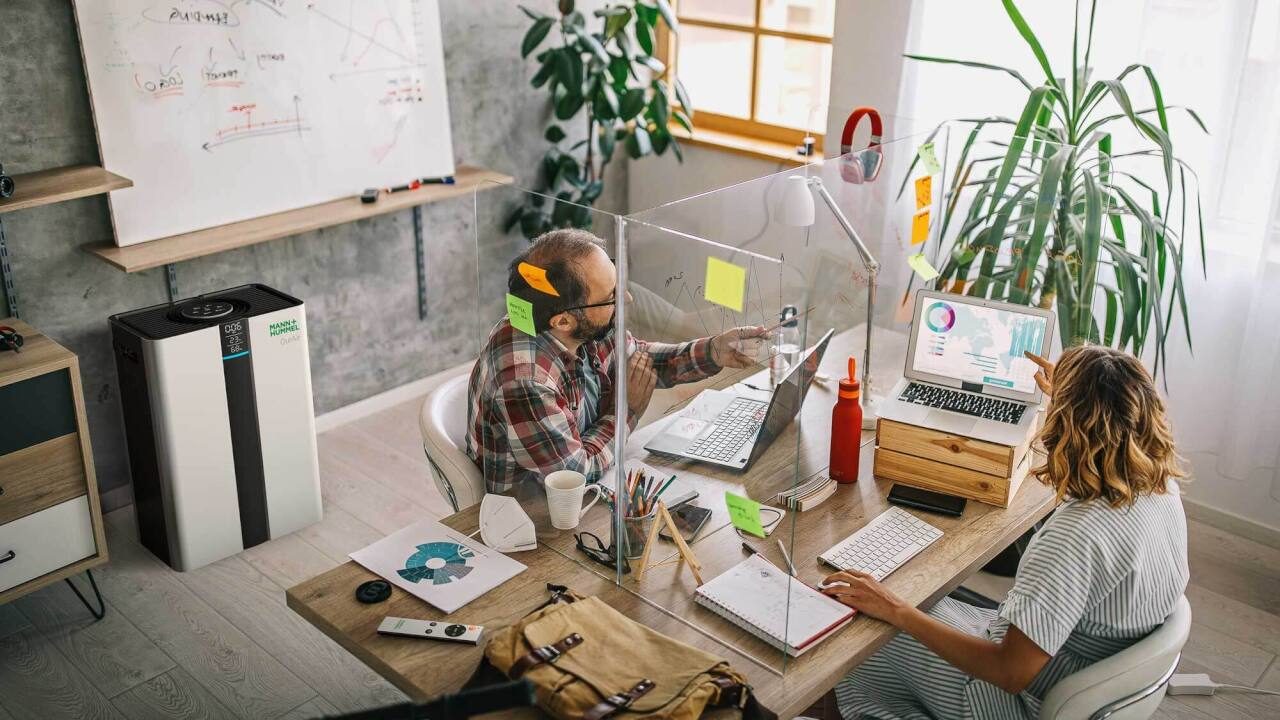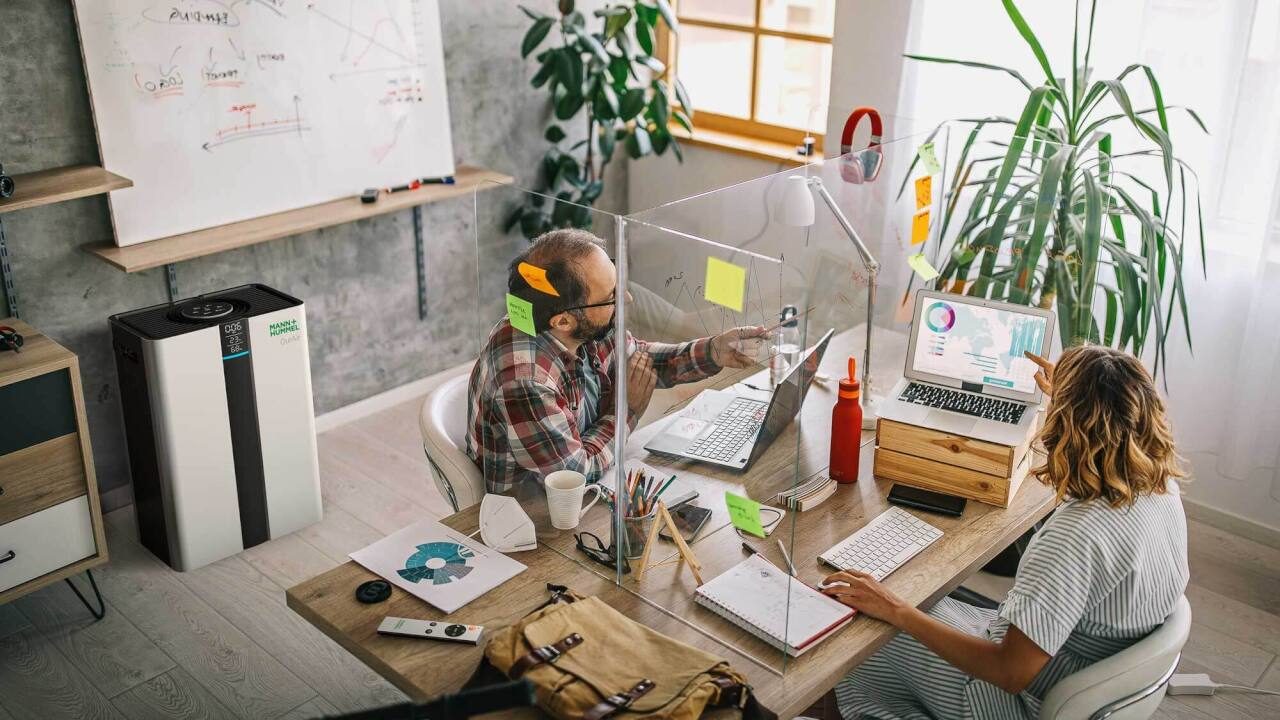 A mobile air purifier for smaller commercial spaces up to 40 sqm
Mid-size air purifier that cleans air and combats COVID-19
The large-room air purifier keeps your indoor air safe
HEPA room air purifiers from MANN+HUMMEL: Highly effective against viruses, bacteria, allergens, harmful gases and odours
For 80 years, MANN+HUMMEL has been separating the useful from the harmful. Since long before the COVID-19 pandemic we understood the importance of effective protection against viruses, bacteria, fine dust and allergens in the air. This is especially true indoors, where air pollution levels can be up to five times higher than outdoors.
OurAir room air cleaners with certified HEPA H14 filters ensure clean air, even in rooms where there are no existing ventilation systems.
With the optionally combinable activated carbon filters, the air purifiers also remove harmful gases and unpleasant odours from the air.
The MANN+HUMMEL portfolio offers mobile air purifiers for various room sizes - from 40 to 200 sqm. So you can individually and effectively protect every single room from harmful viruses, bacteria and aerosols.
The benefits of OurAir room air purifiers at a glance:
Quiet and energy-efficient
Tested: The Karlsruhe Institute of Technology (KIT) has confirmed the effectiveness of the OurAir air purifiers
Certified HEPA-H14 room air filters according to DIN ISO 29463 and EN 1822, filtering 99.995% of viruses, bacteria, allergens and other pollutants from the air
Guards against bad odors and harmful gasses when equipped with additional activated carbon filters
By the way: for outdoor areas, we offer our outdoor air purifiers for pollution hotspots in conurbations. They are already in use in Munich, Seoul, Beijing and numerous other cities, improving the air for millions of people.
Our antiviral HEPA air purifiers: Best solution for allergies, pollen and aerosols
Aerosols are solid or liquid mixtures of suspended particles in a gas. The suspended particles - also called aerosol particles - are between 1 nanometer and 100 micrometers in size. They are invisible to the human eye. If viruses or allergens attach themselves to these aerosols, they can multiply and spread unnoticed, especially indoors, and cause diseases. For allergy sufferers in particular, the effects of high levels of indoor pollution are enormous.
That is why protecting people with effective indoor air purifiers is so important. With the powerful air purifiers of the OurAir product range from MANN+HUMMEL, you are sustainably and reliably armed against a variety of threats in the air.
Highly effective HEPA room air purifiers from MANN+HUMMEL: Flexible solutions for all room sizes
The COVID-19 pandemic showed the world the important role that professional indoor air purifiers can play in contributing to a well-functioning social coexistence, for private life and for work. In addition to coronaviruses, however, there are many other threats in the air. The concentration of fine dust is increasing worldwide in urban and industrial areas, and allergens from pet hair, house dust and pollen make life difficult for many people every day. Especially in areas where there are no existing ventilation systems or where proper ventilation is not possible, air pollution is often a major issue. And for pollen allergy sufferers, cross-ventilation in particular is a poor solution.
We have decades of experience providing air filtration of cleanroom quality. Whether in small or large rooms, thanks to our innovative room air purifiers, clean air is possible everywhere and at all times. They are your one-stop virus, bacteria, allergen and fine dust filters in one. And, they can also be equipped with activated carbon filters to combat smells and harmful gasses.
For small commercial rooms up to 40 sqm, the compact and 11.3 kg light OurAir SQ 500 is ideal. This small room air purifier is perfect for smaller offices and classrooms, waiting rooms, medical practices or catering establishments - and provides a speedy, simple solution wherever needed.
The mobile OurAir SQ 1750 air purifier can be used in medium-sized rooms up to 140 sqm. This product is recommended for schools, larger catering establishments, industry and other facilities for excellent air filtration.
Large and high spaces such as restaurants, open-plan offices or gyms, which have an area of up to 200 square meters, are optimally equipped with the large air purifier OurAir SQ 2500. This air purifier has an immense volume flow, yet, it's surprisingly quiet and economical - and represents a perfect alternative to constant cross-ventilation. After all, constant ventilation is not only unpleasant, especially in cold weather. Frequent airing is also anything but sensible from an energy point of view, as the (cold) air from outside has to be consistently reheated. Besides, proper cross-ventilation, which effectively reduces the pollutant load, is not even possible in most cases.
In rooms larger than 200 square meters, several units can also be placed as modules.
Tailored filtration to meet your individual needs
Our mobile air purifiers don't only provide clean air, free of viruses and bacteria. When they are equipped with an innovative activated carbon filter from MANN+HUMMEL, OurAir room air purifiers can also effectively remove harmful gasses and bad odors from the air.
You can find customized and energy-efficient replacement filters for all OurAir air purifiers in our online store. We are constantly adapting our range to meet current challenges. Every innovation from MANN+HUMMEL is always available to you immediately - for filtration that will continue to set standards for years to come. 
Save energy costs with MANN+HUMMEL
The quiet and energy-efficient OurAir HEPA air purifiers are particularly worthwhile in times of rising energy costs, even in continuous operation. Especially in cold weather, these mobile devices can save resources. This is because effective HEPA H14 filters keep impurities in the air at a constantly low level.
You no longer have to air and reheat rooms every 20 minutes, with high energy loss, in order to keep pollutant levels low. Our air purifiers ensure a balanced supply of CO2 with just a small amount of fresh air.
Scientific proof of the effectiveness of our mobile room air purifiers in the fight against viruses and bacteria
The effectiveness of MANN+HUMMEL OurAir cleaners was scientifically tested in a classroom with a room size of approximately 90 m². The Karlsruhe Institute of Technology (KIT) found that the use of the SQ 2500 mobile air purifier results in a significant reduction of aerosol pollution within a short period of time. After just four minutes by 50%, after 15 minutes by 90%. And after a further five minutes the pollution curve heads towards zero. Similar results were obtained in another test with the OurAir TK 850 (predecessor model of the SQ 1750). So we have scientifically proven that our air purifiers with virus filters result in a significant reduction of harmful particles.
Contact us today - together we will find the right filtration solution for your rooms!
As winter approaches we will all be spending more time indoors. Which means it's essential to keep your air virus-free and help combat COVID-19 in your office, gym, restaurant or school. But how can you be sure your air purifier will improve air quality and protect your colleagues and customers?
Don't just take our word for it. The Karlsruhe Institute of Technology recently conducted a study on air purifier effectiveness, in both controlled surroundings and a real-life classroom situation. The studies confirmed that the OurAir SQ 500, OurAir SQ 1750 or OurAir SQ 2500 room air purifiers significantly reduce the number of particles in the room and contribute to reducing the risk of infection.
Whatever your space, a room HEPA* filter will deliver cleaner air.
*according to ISO 29463 and EN 1822
Yes, they are! In addition to virus-laden aerosols, our air purifiers also capture bacteria, free allergens and other microorganisms, which sometimes cause the most frequent reasons for absence from the office: flu, colds and allergy complaints.
Dr. Jürgen Herbers, a family doctor in Pleidelsheim, is of the same opinion: "Unfortunately, so many other pathogens remain in the post-corona period that we see an urgent need for efficient air filtration even later".
Thus, our room air purifiers with corona filter can, for example, also contribute to lower disease rates in the future.
MANN+HUMMEL air purifiers catch not only viruses (and their mutations) but also bacteria, free allergens and other microorganisms. These are often the most common reasons for days off work. Whether flu, cold or allergy complaints, our air purifiers reduce the risk of diseases and allergies in rooms. Even after the coronavirus.
HEPA* (High Efficiency Particulate Air) filters are particulate matter filters that remove more than 99% of the smallest particles such as dust, mite eggs, pollen, smoke, bacteria and aerosols from the air. The extremely fine filter medium effectively separates the smallest particulate impurities from the air flow and ensures very clean air. Even the smallest suspended particles (< 0.1 µm) are reliably separated and ensure refreshed, clean air. Because of their efficiency in eradicating even tiny harmful micro-organisms HEPA* filters are used in room air purifiers in the medical sector, for example in operating theaters and laboratories.
HEPA* filters with virus protection are divided into filter classes H10 to H14 according to the European standard EN 1822. If a filter is categorized as performing at 99.95%, it belongs to filter class H13, and for 99.995% it belongs to filter class H14. When used in conjunction with an activated carbon prefilter in an air purifier, they are particularly effective against airborne aerosol droplets.
If you want protection from airborne viruses and to reduce the risk to your business, a room air cleaner is a simple, safe and scientifically proven solution. At MANN+HUMMEL we've got clean air covered.
* according to ISO 29463 and EN 1822
At MANN+HUMMEL we've been developing new ways to separate the useful from the harmful. We have 22,000 filter experts - more than 1,000 of which make up our R&D department - which work together to make our world a cleaner place. While air conditioning units traditionally either just heat or cool a space, our air purifiers for rooms actively improve indoor air quality by trapping unwanted particles and removing them from circulation.
A HEPA* (High Energy Particulate Air) filter is a mechanical type of filter. The air passes a huge homogenous layer of finest fibres.  The massive amount of fiber surface offers significant attraction for particulates and contaminants to get captured – even down to sizes below 0.1 μm [SK1] – taking them out of circulation. Our standalone units and HEPA* H14 filters work quietly and discreetly to remove particles from circulation. The air is clean, healthy and  free of any particulate contaminationan and can be recircled back into your building. 
*according to ISO 29463 and EN 1822 

What does a room air purifier do? We know that COVID-19 can be spread through airborne aerosols and that indoor air is likely to contain higher volumes of infected aerosols. These tiny droplets are emitted into the environment through breathing and speaking, before spreading throughout a room. By reducing the concentration of viruses in the air where effective ventilation isn't possible, corona filters like anti-viral whole room air purifiers play a vital role in improving indoor air quality.
So, if you're wondering how a room air purifier works, our room air filtrations system consists of either an all-in-one air purifier, or an upgrade of your HVAC system with HEPA* filters.
Once you've fitted the replacement filter to your HVAC system (HEPA* H13 is sufficient and will deliver 99.95% virus free air) or simply plugged in an corona filtration system like OurAir SQ 500, OurAir SQ 1750 or OurAir SQ 2500, then 99.995% of viruses, bacteria and other microorganisms will be extracted from the air.
*according to ISO 29463 and EN 1822 

The World Health Organization states levels of different sizes of particulate matter (PM) that enter the respiratory tract in the air should be no higher than 10߂g/m³ for PM2.5 and at or below 20߂g/m³ for PM10.
According to the Air Quality Index, PM2.5 levels of between 0-50 pose little or no risk to health; 51-100 might be a risk for small numbers of people with sensitivities; 101-150 is unhealthy air quality for sensitive groups; and anything over 150 is unhealthy, leading up to hazardous. The indoor air filter in a good quality HEPA* room air purifier will keep your building's air quality at a safe level.
If you want protection from airborne viruses and to reduce the risk to your business, a room air cleaner is a simple, safe and scientifically proven solutions. At MANN+HUMMEL we've got clean air covered.
* according to ISO 29463 and EN 1822
Harmful particulates and gases in the air have a detrimental impact on human health. And in times of airborne virus outbreaks the focus is increasingly on the quality of the air we breathe. Virologists agree that COVID-19 spreads primarily through respirations, while transmission through surface smears or droplets is less common. Cleaner air contains fewer aerosols carrying these infectious particles. If you're concerned about the current air quality in your workplace, we've designed an anti-viral room air filtration system with corona filters to help keeping you healthy.
Our room air filter solutions will give you the peace of mind that you've done everything possible to keep people safe in your building. A MANN+HUMMEL super-efficient air purifier will remove 99.995% of viruses, bacteria and other Class 14 microorganisms, completely exchanging the indoor air up to five times per hour. Which means you can continue operating successfully and keep your business thriving. If you want virus-free, clean air in your rooms, our products are the solution.
Here's why you can breathe easy:
The

OurAir SQ 500

small room air purifier is suitable for rooms up to 40m2 and provide virus-free air to smaller commercial spaces.
The

OurAir

  SQ 1750

 room air purifier for rooms up to 140m2 has a HEPA H14 filter and cleans the air with a maximum air flow rate of 1750 m3/h.
The

OurAir

SQ 2500

features an HEPA H14* filter and is suitable for rooms up to 200m2. It has a maximum air flow rate of 2500 m3/h, making it so effective you can even use it in semi-open areas.
The

HEPA* Upgrade for HVAC filtration

consists of filter inserts that fit to your existing room air filtration system, with no additional running costs.
Depending on the size of your space and budget you can choose an all-in-one air purifier unit that you can place alongside other units, or a replacement air filter for your heating and cooling system. Both solutions keep your room virtually virus-free – just 'Plug & Play' for instantly cleaner, healthier air.
* according to ISO 29463 and EN 1822