99% of all people breathe polluted air.
Air – we can't see it and yet it has far-reaching effects on our surroundings. The figures in themselves make it abundantly clear, but we can also feel it in our own wellbeing: poor air quality makes us tired, unproductive and, in the worst case, ill.  Research by Harvard and Syracuse Universities shows that when air quality is improved, human cognitive performance increases by about 61%. Yet every year companies are still throwing away billions of euros in lost productivity and illness-related absenteeism due to poor air quality.
Indoor air pollution is typically around 5 times worse than it is outdoors.
Cleanroom production is even more sensitive than we humans are. In the manufacture of foodstuffs or microelectronic components, a high-purity environment is a fundamental requirement. Specialized high-performance filters are used to eliminate contamination. These remove even the smallest particles as well as gaseous and microbial contaminants from the air.
99.99999% of pollutants can be removed by filtration solutions from MANN+HUMMEL.
What counts for us when it comes to air quality is clear: we aim to protect people and make industrial processes safer by providing reliable and efficient filter solutions. We have been doing this for over 60 years. You can easily work out why we are the right partner for you, too: just take a deep breath and read on.

Gain new insights and perspectives!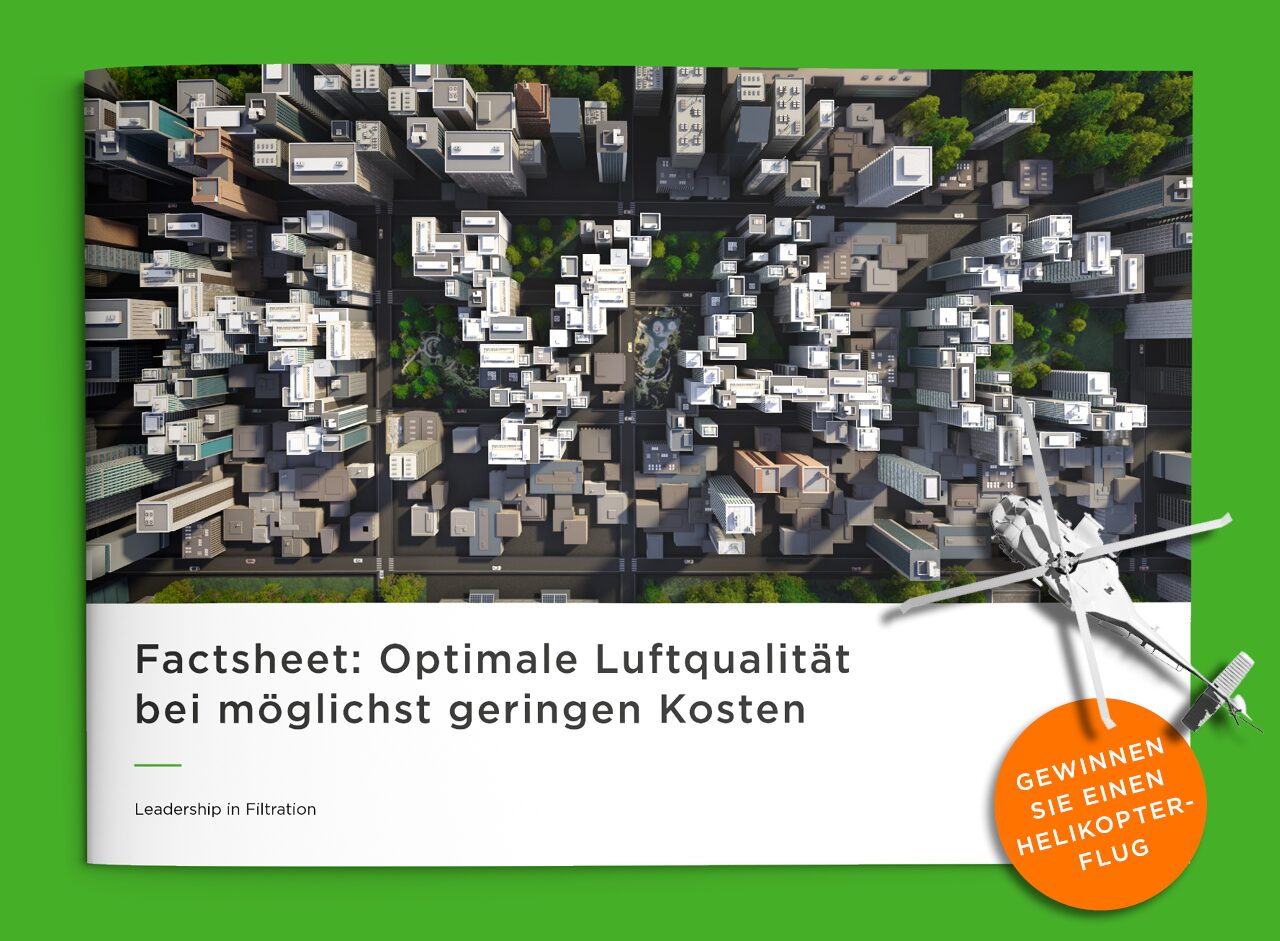 Download the factsheet now and win a helicopter flight.
Best possible air quality at the lowest possible cost. In our factsheet "Best possible air quality at the lowest possible cost" you will find interesting facts, figures and insights on the following topics:

What efficiency means in air filter terms and why it is important
What influence design has on energy efficiency
What the Eurovent energy classes mean
Practical examples of cost savings from various industries
+ a checklist: How to reduce the energy consumption of your HVAC system
Simply register and download now.
You will then receive your invitation to the competition – and with it the chance to win one of three helicopter flights. In other words, the ultimate in new perspectives!
Quality air filters pay off – with every breath you take
While you are taking a breath, somewhere in the world someone is dying from the effects of poor air. According to the WHO, these deaths number up to 7 million per year.
We do something about it – with one of the world's widest ranges of high-quality air filters, including coarse dust filters, high-performance EPA, HEPA and ULPA filters or molecular filters for gaseous contaminants. We cover the entire air filtration needs of ventilation technology – from building ventilation to cleanroom solutions.
While you take two breaths, MANN+HUMMEL manufactures 256 filters.
Cleanrooms in the pharmaceutical and food industries need ultra-clean ambient air. Supplying them efficiently and quickly with high-performance filters is therefore crucial. Supply failure can lead to the risk of production downtime, product recalls or even damage to health. Our 22,000 employees at 80 locations around the world give you the security of knowing you will receive exactly the filter solution you need at all times. By the way, for clean rooms we also have complete FFUs and ceiling systems in our range.
While you take three breaths, an ePM1 air filter with energy efficiency class of A+ saves as much electricity as 6 large refrigerators compared to a class D filter.
It isn't generally known that the energy efficiency of an air filter accounts for 80% of its life-cycle cost. We therefore place great emphasis on maximum energy efficiency when we design our air filters. So it's no surprise that MANN+HUMMEL has the largest selection of A+ filters on the market.
While you take four breaths, companies in the US alone lose nearly $40,000 due to the health effects of poor air quality. The situation in other industrialized nations is no different.
With HVAC systems, the more efficient the air filter, the higher the energy consumption. The optimum filter design is therefore the solution that provides safe air quality while consuming as little energy as possible. For this purpose, MANN+HUMMEL has developed the qlair air quality management system. This AI-supported management tool for HVAC systems collects environmental data and findings in real time to determine the ideal filter system for the specific location.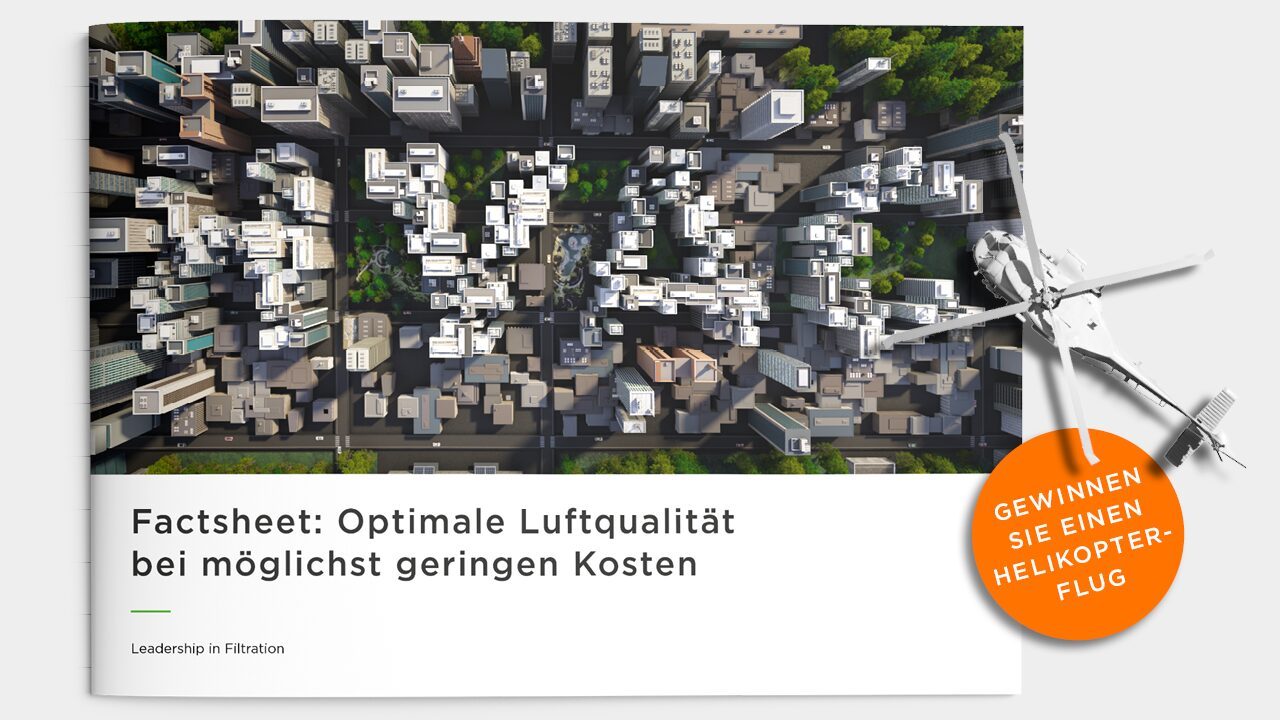 Interested in some amazing facts and new perspectives?
Download the factsheet and secure your chance to win a helicopter flight now!